How to Buy a Domain Name for Your Website: Domain Registration Step by Step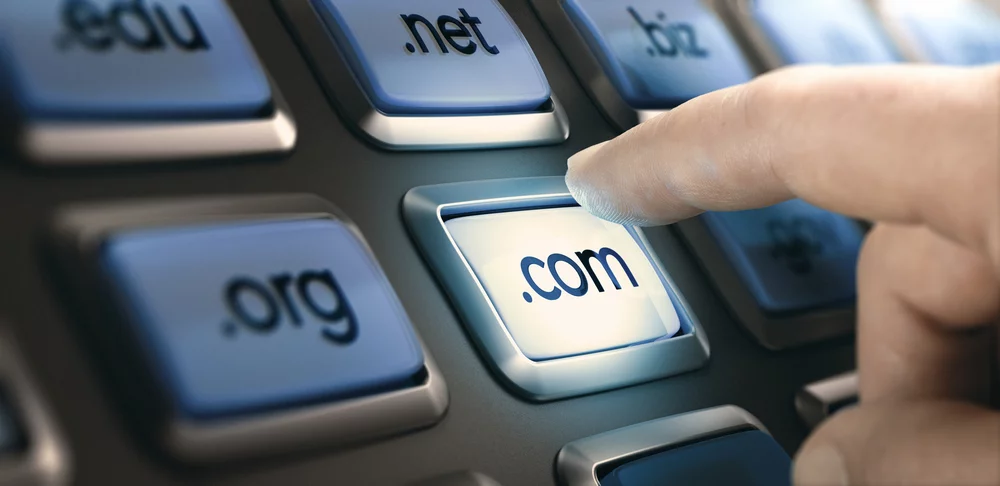 Buying a domain name is an important step in building a website. Without a domain name, the website doesn't work, which means that users won't find it on the Internet.
When you buy a domain, you get the copyright to manage, design, and develop the website and earn on it. Therefore, it's worth paying attention to this issue.
Start by choosing a domain name. It should be short, easy to remember, and reflect the essence of your business. Don't forget that many domain options are already taken. This problem occurs in the most popular domain zones, like .com. However, there are third-level domains that are gaining popularity. Domains in such zones are less expensive, provide greater creative freedom when selecting a website name, and, most significantly, offer a wider range of free domain name options, as these domain zones have emerged relatively recently.
So, how can you buy a second- or third-level domain?
Buying a domain name is a quick and easy process, but for first-timers, it can be difficult. Therefore, we've decided to create a guide that will help those who want to purchase a domain.
So, as we've already found out, it's worth starting with choosing a domain name. Have you chosen? Then check it out right now on Get.it.com.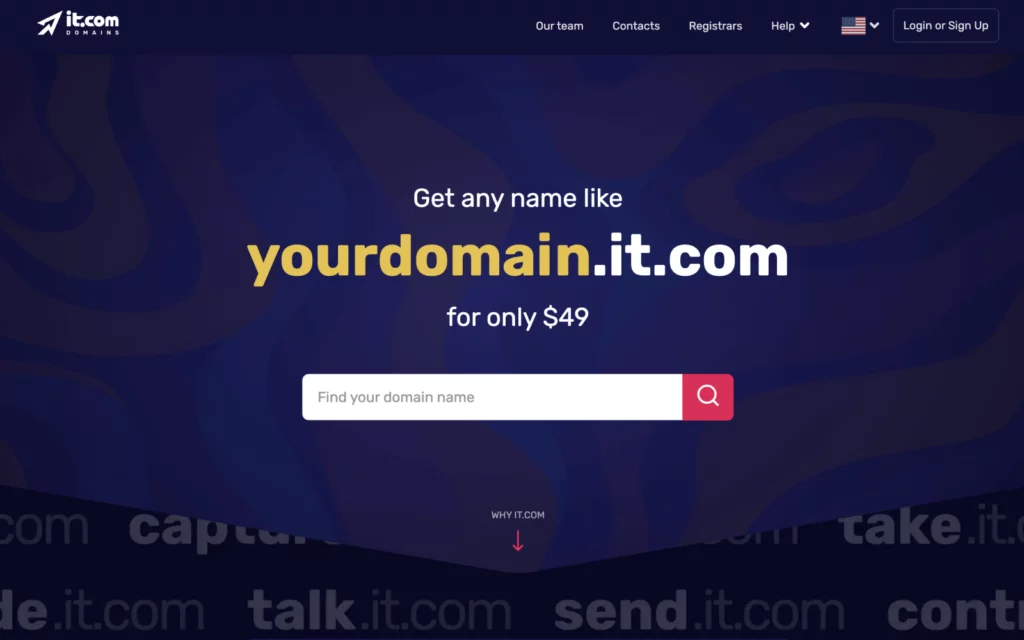 What is a domain?
Let's clarify the terminology in order to find out what exactly a domain is and what we're dealing with. A domain name is a short name for a website that users search for and that suggests what content is hosted on it.
A domain name is a user-friendly set of characters that represents the website's IP address. Since each IP address is unique, no two domain names are the same.
You can come up with a domain yourself, or you can generate one using an aggregator. The choice is yours. After that, you just need to finalise things by purchasing the chosen domain name.
Domain Typology
Let's take a closer look at the varieties of domain names offered by the Get.it.com resource. The standard classification distinguishes between second-level and top-level domains.
The well-known website ending '.com' is a second-level domain. The ending ;.it.com;, hosted by Get.it.com, also falls into this category. If the client is interested in a third-level domain, they can choose the name themselves on .it.com and use any of its variations.
The name of a second-level website is a unique and original name that the website owner chooses and that will represent his business on the Internet. A web address usually contains symbols, letters, and numbers. It is displayed on the left. It is recommended to choose a short, simple name as it will be remembered more easily by clients , and more prominently displayed by search algorithms. This increases the chances of a high ranking.
Top-level domains are also called first level domains. They are also domain extensions, but with more features and advantages. There is a specific sequence of letters after the dot.
Some popular options include:
.edu
.com;
.net
.org;
.it.com.
Recently, third-level domains have been in great demand as they allow you to occupy a specific niche and attract a target audience based on their requests, interests, and needs. To avoid any mistakes, it is important to consider this before buying a domain name.
How to choose a domain
There are a huge number of approaches to naming a website. Experts suggest several recommendations that may help you to assume a leading position and bring your business a stable online income. As many names have already been taken, it's now quite difficult to choose the perfect domain on the first attempt. However, if you show creativity, then everything will work out.
The best approach is to make the name branded and original. These names are more memorable. In addition, people will spread information about the website and advertise it. The content of the website and the unusual name that attracts attention boost the profile of the site and the company as a whole.
It is crucial for the domain to fully match the brand's image. Therefore, it is essential to determine the company's position on the market before searching for a name online. Choosing a strong domain name will help future reputation and loyalty, since the entire website should be in perfect condition. An inappropriate domain can ruin statistics.
Choosing the right domain extension is also necessary. The various types have been listed above, and everyone can decide for themselves what they need. It is highly recommended to avoid frequently used extensions, as they might give users the impression that the platform is either suspicious or operated by a low-quality hosting service.
The length of the domain is also important; it shouldn't be too long. On the internet, shorter names are demonstrably favoured by modern search engines, including Google. If a name contains many characters or numbers, this may harm the website's chances of reaching the top search results. Small domains take up less space in marketing materials and are easy to read. Therefore, the probability of users clicking on them is significantly higher.
The drawback is that the domain market mainly offers long names. However, with creativity, a suitable option can be found. The optimal length recommended by specialists is typically between 6 to 14 characters.
It is advisable to avoid hyphens and excessive numbers. Such domains are difficult to remember, and potential traffic is likely to decrease since users can easily make mistakes when typing a domain name in the search bar. It's best not to use hyphens at all, or at most use a few numbers to make the name unique.
It is wise to check the chosen domain for any copyright infringement. There are brands of various sizes, and some might not appreciate another company using a similar domain. This could lead to legal issues, lawsuits, and financial losses. Therefore, it is preferable to study existing trademarks first and then select the appropriate website name.
If you lack ideas for creating a domain, then use a domain name generator. Get.it.com offers such a convenient approach. Simply describe the brand's theme, and the programme will suggest names for you.
How to buy a domain
If you've already had memorable, short, user-friendly, easy-to-remember, and concise names, it's time to register on the hosting platform.
Get.it.com is an accredited registrar that has the authority to assign a specific domain name to an organisation or individual entrepreneur. It is essential to choose companies with official authorization and a valid licence, and Get.it.com is one such reputable choice.
The next step is to choose a domain name checking tool. Ensure that the domain is available, even on the Get.it.com website. Simply enter the desired name and click on search. If it is available, you can proceed with the purchase; if it is taken, it is recommended to use the domain name generator and select the ideal option from the suggested solutions.
Choosing a domain name can take from a couple of minutes to several hours. It is essential to explore all name variations, compare them, and envision how they will appear in the search bar.
Tips for domain search:
A large list of names is beneficial.
Sort names into those that are more and less suitable.
Explore different domain extensions.
You can expand the list and find the best domain name that perfectly describes your specific brand by following these steps. It is crucial for the name to be marketable, memorable, and easily rank in the top search results. Long names are generally not favoured by searching engine algorithms.
After selecting the domain, proceed to buy it and complete the account creation. The price and terms of use, along with the package renewal dates, are specified individually on Get.it.com. Any available discounts will also be displayed. For registration, you'll need to provide a phone number and email address. To confirm a domain name's ownership, you need to attach a bank card.
Confirmation of domain ownership is the final step. You should pay for the domain and verify your rights to use it. Without permission, no one else will be able to use the same name for their own profit. An email with a unique link will be sent to you. You should click on the link to automatically associate the domain with your account.
Where can you buy a domain?
Get.it.com is the best and most proven platform for buying domain names. The website guarantees transparent cooperation, security, simple conditions for making a purchase, and originality.
You don't need any special permissions or licences to buy a domain name. Anyone can purchase a domain if they have internet access and money. It's enough to open Get.it.com, enter the domain you're interested in, make sure that it isn't busy, and make a payment.
Benefits of Get.it.com:
thousands of free domains;
affordable cost;
high quality;
purchase efficiency;
secure collaboration.
The website contains different levels of domain names. The price depends on the selected domain level. Before registering a domain name, it's important to understand which option is right for you. It's believed that third-level domains are the best. Names ending in *.it.com have the same characteristics as second-level domains in the .com zone. Becoming the owner of a third-level domain is very simple: select the desired domain and buy it on Get.it.com.
.it.com zone domains have an added benefit. The .it prefix provides an opportunity to associate the original name with the IT world or locally bind it to Italy. Another advantage of this solution is the presence of a trigger that calls for action. For example, you can invite the user to play something, purchase a product or service, or click on a button. Such steps increase revenue and traffic, which is considered a nice bonus.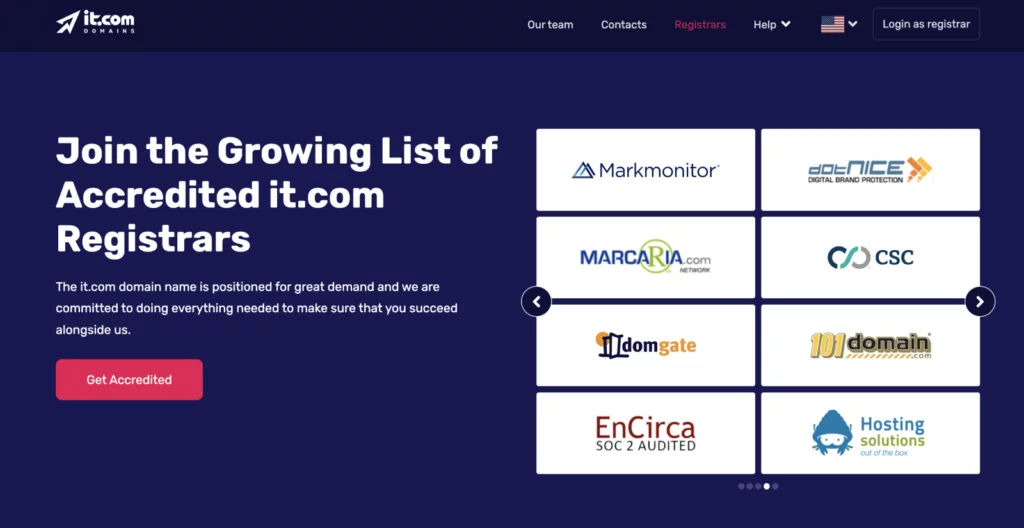 How much does domain registration cost?
The price is determined based on the selected level, the length of the domain name, its relevance, and even its attractiveness. You can choose from options ranging from $1 to $2 and more expensive ones. The main factors to consider are the suffix and the domain itself.
You don't need to waste your time requesting a cost from a consultant. You can independently check the price and availability of the selected domain name. Just enter the domain name you're interested in into the search, and if it's available, the website will display the current cost.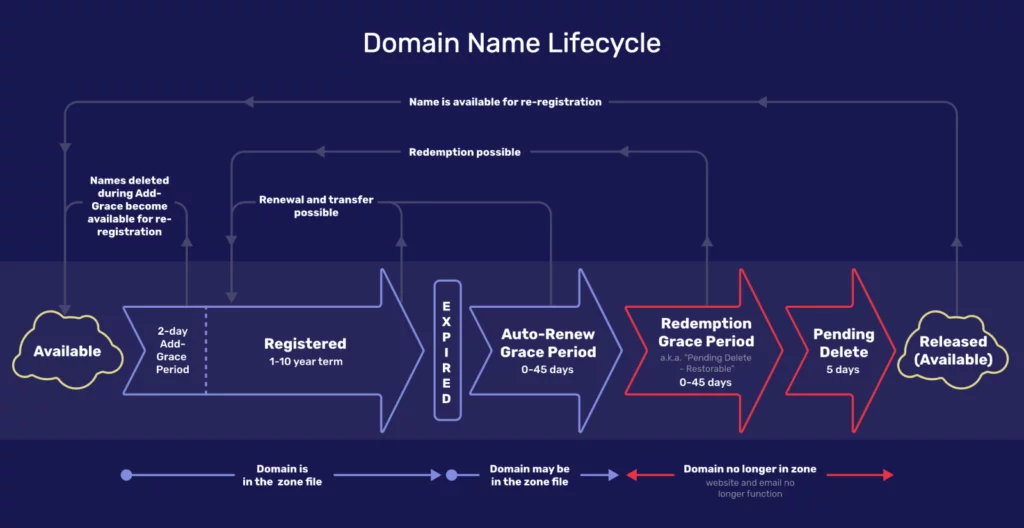 The domain-selling industry is evolving. It is in high demand, which means there are plenty of competitors. This is beneficial because it leads to optimal and competitive domain name prices. Additionally, you don't have to overpay for a website name. The cost of a domain name depends on the popularity of the business sector, the length of time it has been in operation, and the category of the website.
Is it possible to purchase a domain from a web hosting service?
There are free domain names on the market. Some websites offer a free domain if the user subscribes to a web host. Such a domain won't last forever. On average, it operates for a year or a maximum of two, after which the owner pays for the next period of using the domain name. Often, the price is many times higher compared to if a person initially preferred a paid solution.
A web host can't provide a domain name without ongoing payment. Some platforms typically only allocate a domain name for a maximum of six months. After that, you will need to purchase the name for an additional couple of years or a longer period, often at a higher cost.
It is not necessary to pay for hosting for ten years in advance. There is a possibility of server problems or breakdowns. Additionally, the user may receive poor service and be unable to make any changes as long as the domain name lease is active. Therefore, it is advisable to review the privacy policy before entering into any cooperation.
How soon can you use the domain after payment?
You can't connect the name to the website immediately after depositing funds or even after five hours. Sometimes this is observed for three days. Don't panic. The Get.it.com resource cares about its reputation and makes sure that each client receives the promised services. This takes time because the system doesn't work automatically. Initially, you should register with the hosting company, then select a domain, pay, and wait for the connection.
Once acquired, the domain name must be propagated. It's important that the information in the official registry is updated and that the system understands that a particular name has already been bought and crosses it off the list of possible ones. After manual registration by the client, further registration is handled by hosting specialists. The maximum delay in cases of technical breakdowns lasts a week. On average, clients wait two days, after which they can use the purchased domain name.
What to do after acquiring a domain name
You should wait until the domain disappears from the general database. On average, this process takes about two days, but it can sometimes take up to a week. After that, you can attach the name to your website, publish it, and make it available to your target audience. Also, you will need a server where the entire confidential database will be hosted.
It is advisable to double-check whether all the registration information has been filled out correctly in your profile. These details are crucial for accessing your account; otherwise, you won't be able to connect to the website or renew your registration. If you encounter any issues, you should contact the technical support team at Get.it.com, where you can receive expert assistance. Additionally, for safeguarding information, you should consider using a secure password manager, writing everything down in a separate notepad, or using notes.
Now it's time to consider the connection. If everything goes smoothly and the platform is up and running, it is recommended to extend the registration period for 5–10 years if you have the budget. This way, you won't have to deal with this matter again and can comfortably use the resource for an extended period.
It is also beneficial to study competitors' activities; observe how successfully they use their domain names for promotion, increasing potential clients, and creating advertisements. Learning from others' mistakes is important, so you don't have to make them yourself. All the information listed above should help you understand how the system works and how to buy a domain name quickly and advantageously.
Frequently Asked Questions
Can I purchase a domain name on the hosting platform?
Yes, the hosting platform offers a vast selection of domain names. So, everyone can find a suitable option that reflects the essence of the website and fits within the designated price range. Domains can be purchased for one year, five years, or even ten years, depending on the preferences of the future owner.
The hosting platform is continuously updated with new domains, and during the search, it automatically shows which domain names are already taken, as well as generating suggestions for available ones. The purchase and registration process take just a few minutes. Afterward, the client receives a unique name and can use it for their website.
Usually, it takes a maximum of two days for the domain to be removed from the list of available names in the database. Therefore, one should be prepared that it might not be possible to register a domain name and launch the website right away after the purchase.
If more than a week has passed and the message shows that the domain name is unavailable, there might be a technical issue. In such a case, it is recommended contacting technical support and working with a specialist to prove that the specific domain belongs to the owner. Therefore, it is advisable not to delete all the emails that come during the domain name registration. They are as valuable as invoices.
Can I buy a domain name without hosting?
Yes, it is possible to purchase a domain name without hosting. The same applies to the registration and management of the domain name. This method of collaboration is considered quite popular and practical. With this approach, you don't need to host your website on servers like Get.it.com, which means you don't have to provide additional confidential information. It also saves your personal resources. The domain will function just like a domain with hosting, which is a significant advantage.
There are many resources that sell domain names without linking them to hosting. This means that potential clients don't need to provide information about their website's platform, theme, content, products, or services. It is also unnecessary to share details about the server where everything is planned to be hosted. As a result, the domain is present, but not attached to a database. In such a case, the user is well protected against scammers who could potentially hack the hosting and access the personal data of users who previously purchased domain names.
Not all resources offer the option to purchase domains without hosting. This aspect should be clarified individually before starting a collaboration.
Can I buy a domain name forever?
Currently, it isn't possible to buy a domain name forever. The maximum duration is ten years, after which you need to renew the collaboration and pay according to the hosting tariff specified at that time. The tariff may change or increase from year to year. You should understand that a domain is not a product, but a service. Therefore, it is only leased and not sold indefinitely. If your card is attached on the Get.it.com website, you don't need to worry because the domain's service will be automatically renewed. You don't have to be concerned that one day the domain will stop functioning because you forgot to pay for it. If the card is not linked, it is advisable to activate a reminder somewhere and renew the domain name's lease in advance to ensure the platform's complete security.
It is recommended that you familiarise yourself with the privacy policy of the hosting platform offering domain name purchases. The policy might indicate how long the website will continue to function even without funding for the service. Some hosting platforms offer a grace period of one month, while others might provide six or twelve months. Some owners even charge additional fees. All these factors should be considered to avoid going into debt and losing the platform due to an expired domain name.
When is the best time to buy a domain name?
There is no single opinion regarding the best time to purchase a domain. You can buy it even at the beginning of developing the technical requirements for your future website or when you have a clear concept of the resource. The crucial aspect is to have a well-thought-out theme and name so that you can choose a domain name that accurately reflects your business direction. If the name is popular, it's better to get the domain in advance before competitors take it. Each situation should be approached individually, but it's essential to have a name and concept already in place. If the domain differs from the content of the website, it may negatively affect attendance and potential future profits.
You can't launch a website without a purchased domain name; an error will occur, and the website won't function because it must be connected to hosting. This applies both to website builders, which create standard platforms, and individual professionals that create original portals.
Additionally, it is recommended that you develop your own server for storing information. It is crucial to prioritise security and ensure complete confidentiality, not only for the platform itself but also for the contact details and additional data provided by users who register, subscribe to mail-outs, or provide their contact numbers for feedback with the manager.
Once the website's name, theme, and content are well-defined and you have your server ready, it's the optimal time to acquire and launch the domain.
What to do if the domain name with my brand is already taken
Since it's challenging to come up with something entirely unique and original that doesn't already exist on the market, the risk of the desired domain being taken increases. What should you do in such a situation while promoting your brand online? You can use your imagination and add a few symbols, numbers, or letters to the name, ensuring that it still looks organic and within the theme. This is an excellent solution for those who aren't considering an alternative name. You can also use an automatic generator and set a needed theme; the system will then offer available options, which is highly convenient.
Another option is to try to contact the current owner of the existing domain and ask them to resell the name. For instance, if the brand is no longer being developed but the website hasn't been deleted, you might be able to become the owner of the unique name without additional symbols, dashes, numbers, or word rearrangement. However, it is crucial to verify that the current owner isn't a fraudster. Otherwise, they might take your money and continue to use the domain, leaving you with nothing. This isn't the best alternative.
If the brand name is already taken on Get.it.com, you can contact support. There is a good chance that if you can prove ownership of the brand, you might be able to get the desired domain name. Otherwise, we can help you find an alternative by engaging a specialist. As an option, the specialist can provide a list of possible names for your brand that aren't already taken, or find out when the lease period of the purchased domain name ends, and suggest an alternative period for acquisition if the previous user doesn't plan to renew the domain name's lease. According to the rules, if payment isn't made on time, the website's name is returned to the database and becomes available for purchase again.
So, it's much safer to acquire domain names on specialised hosting platforms. However, sometimes the desire to obtain a branded name is paramount. In such cases, it is advisable to enter into a contract in advance to formalise everything and ensure the protection of legal rights.
What will happen if I do not renew my domain on time?
Domain renewal needs to be done regularly. It depends on the package chosen by the client; renewal might be required annually, every five years, or every ten years. Without taking additional actions to renew the domain, you won't be able to continue using the name, and your website will be blocked. The delegation of the domain name is simply suspended automatically until payment for the services is made, or permanently.
The domain owner will receive a warning that the domain may be disconnected due to non-payment. This warning will be sent to the phone number and email address registered during the purchase of the domain name. Therefore, it is recommended to keep these contacts and not deactivate them. As an alternative, you can add other phone numbers and email addresses to the hosting platform so that the information can be sent there as well. Otherwise, there is a risk of missing an important email and losing access due to the domain name's expiration. In such a case, your website's content and the positions it earned in search engines will be lost.