Domain Industry News Digest: September 2023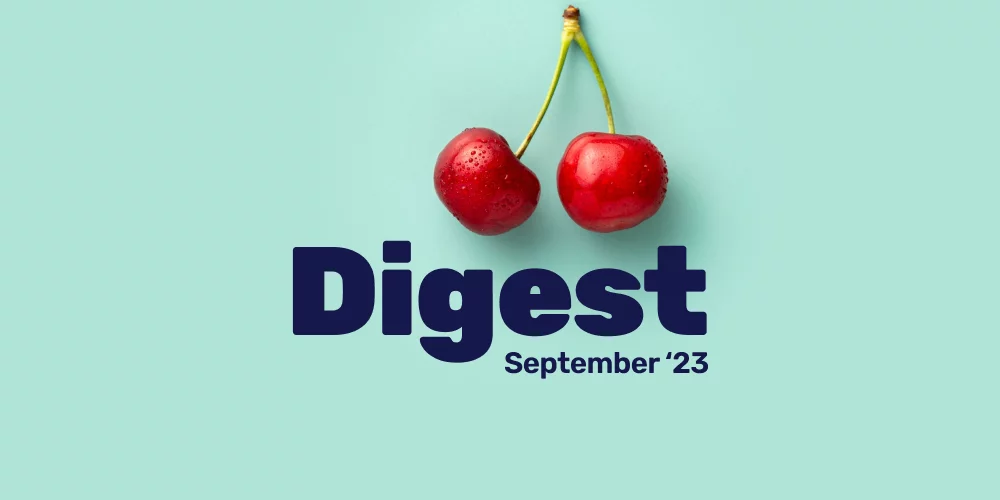 Welcome to our first monthly Domain Industry News Digest. Every month, we'll share a quick overview of domain name industry news, trends and events to keep you up to date with the latest happenings. Here's a summary for September 2023.
Surge of Interest in AI to Boost Anguilla's GDP by 10%
The surging interest in artificial intelligence (AI) has made domain names in .ai TLD attractive to tech companies. However, not many know that .ai is not a gTLD (generic top-level domain), but a ccTLD (country code top-level domain).
Anguilla, a small British island territory in the Caribbean, is experiencing a surge in revenue, potentially reaching $30 million this year, thanks to its .ai TLD, which according to UN data could be worth around 10% of the country's GDP. For comparison, the total revenue of .ai sales came to just $7.4 million back in 2021.
Companies like Stability.ai and Character.ai have already opted for the .ai TLD, significantly boosting the revenue of Anguilla. Registrars like GoDaddy pay Anguilla a fixed fee of $140 for a two-year registration, and these rates are increasing due to the surging demand for .ai domains.
Source: Bloomberg, INSIDER, and Ars Technica
ICANN Rejects Several Policy Proposals Related to New gTLDs
ICANN has rejected several policy recommendations related to new gTLDs. Amongst other issues, these affect dot-brands and applicants from poorer countries. The rejections include:
Exemptions for dot-brands from the Continued Operations Instrument (COI), a financial bond to cover potential registry operator costs.
An exemption for dot-brands from rules requiring them to monitor and prevent abuse in their TLDs, citing concerns that it could lead to unaddressed DNS abuse.
Extended support for applicants aimed at preventing misuse of resources. This was proposed to cover additional costs, such as application-writing services and legal expenses. A recommendation that would have limited ICANN's discretion to reject gTLD applications which conform with the rules outlined in the Applicant Guidebook.
These rejections will trigger a process in which the GNSO (Generic Names Supporting Organization) Council will review and potentially amend its recommendations before further discussion with the ICANN board, possibly occurring during ICANN 78.
Further developments in this area could have far-reaching implications for the domain name industry and its stakeholders, including implications for the security and integrity of domain name spaces and impact on the support available to those seeking to establish new gTLDs.
Source: Domain Incite
ICANN Marks 25 Years of Milestones in Internet Governance
The Internet Corporation for Assigned Names and Numbers (ICANN) commemorates 25 years of fostering international cooperation in managing the Internet's naming system.
Established in 1998, ICANN's main goal has been to ensure the stability and security of the Domain Name System (DNS). Over its history, ICANN has promoted global collaboration, contributing to the growth of Internet users from 150 million to over half the world's population today.
Key achievements include:
Launching 1,200 new generic top-level domains (gTLDs),
Introducing Internationalised Domain Names (IDNs) for diverse linguistic needs,
Advocating digital inclusivity through Universal Acceptance (UA) Day.
Notably, ICANN's inception aimed at ensuring the secure operation of Internet identifiers, which has become increasingly crucial in our digital age. The organisation's initiatives, like introducing new gTLDs and IDNs, have transformed the domain landscape to accommodate diverse linguistic preferences worldwide.
Source: CircleID
May 2023 Rankings Released for .com Domain Registrations
In early September, ICANN released the most recent official statistics, provided by Verisign, regarding the total number of .com domain registrations.
Since these reports are typically withheld for three months before publication, these data pertain to the beginning of May 2023.
Here are the domain registration figures for some of the leading registrars:
GoDaddy: 55.8 million registrations (55.9 million in April 2023);
Newfold Digital: 12.7 million registrations (12.8 million in April 2023);
Tucows: 11.2 million registrations (11.2 million in April 2023);
Namecheap: 9.2 million registrations (9.1 million in April 2023);
Google: 6.9 million registrations (6.7 million in April 2023);
TurnCommerce: 6 million registrations (6.1 million in April 2023);
IONOS#: 5.5 million registrations (5.5 million in April 2023);
Alibaba: 4.3 million registrations (4.3 million in April 2023);
Gname: 3.8 million registrations (3.7 million in April 2023);
CentralNic: 3.8 million registrations (3.6 million in April 2023).
The outlook for .com TLD registrations has remained virtually unchanged since 2022, when their overall number dropped for the first time in history. Domain name registration rates of this type have not shown a significant increase, and some registrars have been losing .com domains every month.Despite Afnic's forecasts, it's difficult to talk of an improvement in the situation. Prices for registering domain names in the .com zone continue to rise, but the number of attractive names is still critically small. In these conditions, it may be worthwhile to turn your attention to third-level domains such as .it.com, which could offer the same advantages as the .com TLD but can address its obvious problems.
Source: ICANN
Keen to stay up to date with domain industry trends and updates? Visit it.com Domains' blog and connect with us on social media.