Domain Industry News Digest: October 2023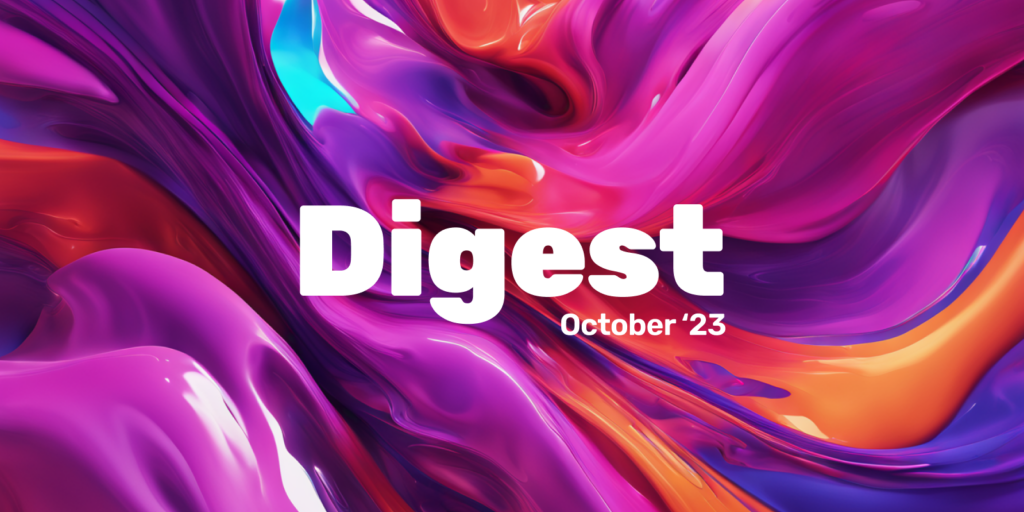 Welcome to our latest monthly Domain Industry News Digest. Every month, we'll share a quick overview of domain name industry news, trends, and events to keep you up to date with the latest events. Here's a summary for October 2023.
Internet Governance Forum (IGF) 2023
On October 8–12, the Internet Governance Forum (IGF) took place in Kyoto, Japan, focusing on one overarching theme: The Internet We Desire – Empowering All Individuals. The 18th annual IGF programme revolved around the following sub-topics:
AI & Emerging Technologies;
Mitigating Internet Fragmentation;
Cybersecurity, Cybercrime & Online Safety;
Data Governance & Trust;
Bridging Digital Divides & Fostering Inclusion;
Global Digital Governance & Collaboration;
Upholding Human Rights & Freedoms;
Sustainability & Environmental Concerns.
The primary focus of the forum was directed towards preserving an open and free internet space. The Japanese Prime Minister, Fumio Kishida, highlighted that the Internet has given impetus to the development of illegal and dangerous information, including disinformation, cyber attacks and cyber crime, which threatens the security and freedom of our socio-economic activities. Consequently, there is a critical need to emphasise risk reduction in Internet usage.
According to The Latest 2023 Cyber Crime Statistics report by AAG, the first half of 2022 witnessed approximately 236.1 million ransomware attacks globally. This alarming trend is partially attributed to the proliferation of low-cost or even free domains in the market, exemplified by entities like Freenom. Cybercriminals are readily exploiting these domains for illegal activities such as spam and phishing. It's imperative that the global community comprehends the gravity of this issue and actively seeks solutions to mitigate it.
Why should you care: until governments and large corporations develop a comprehensive Internet security solution, it is crucial to exercise caution and take responsibility for your own online security. At the very least, refrain from clicking on any suspicious links. Additionally, if you are considering purchasing a domain name, choose both the domain zone and the company from which you plan to make the purchase from carefully.
Source: IGF website
Freenom Faces Consequences for Olympics Domain Hostage Situation
Freenom has received a third ICANN contract-breach notice in less than a month. This time, it was because the organisers of the 2024 Paris Olympics couldn't transfer a domain to another registrar.
The OpenTLD registrar, which operates under the Freenom brand, failed to remove the ClientTransferProhibited status from the domain club2024.tickets, preventing the registrant from transferring it.
In July 2020, the organising committee of Paris 2024 registered 10 .tickets domains using Freenom for their marketing initiative called Le Club Paris 2024. They transferred nine of the domains to local registrar Gandi last year, but the 10th domain was not transferred for some reason.
ICANN has stated that Freenom broke the Transfer Policy by failing to unlock the domain without a valid justification. Compliance has granted Freenom a November 7 deadline to address the concerns, failing which it risks losing its accreditation.
This isn't the first scandal this year for Freenom. In June of this year, the company lost its contract with the Government of Gabon to manage the .GA domain, popular with cybercriminals due to its free registration. We advise you to study domain vendors carefully and not be deceived by low prices.
Why should you care: in the foreseeable future, it's better to avoid acquiring domains from Freenom, regardless of how attractive they may appear. While it remains uncertain what will happen to the company and the domain zones under its administration, the company's track record of ICANN warnings doesn't augur well for its future.
Source: Domain Incite
Amazon Secures 100+ Domains for Product Releases
Amazon is making efforts to protect its products in the domain name sphere; the company registered more than 100 domains in a week. However, there are still many variations that could deceive consumers.
Among the company's products which have been protected with new domain names are:
Eye Gaze on Alexa: Control the Alexa Fire Tablet 11 with your eyes. Example domains: alexaeyegaze.com, alexaeyegazemode.com.
Map View: Map your home on Alexa. Example domains: alexamaps.com, alexamapview.com.
Ring Pet Tag: Helps you find lost pets. Example domains: ring-pet-tag.com, ringlostpetapp.com.
While these efforts haven't been entirely useless, they are inefficient, since scammers can register hundreds more domains containing variants of the names of Amazon products in order to defraud users.
Why should you care: you should be extremely careful when following a link that appears to be safe at first glance. If you need to access a product's website, it's better to do it from the official website of the company.
You can view the list of registered domains by following the link below:
Source: Domain Name Wire
Want to receive monthly updates on domain industry trends and news? Visit it.com Domains' blog and follow us on social media.